Hello. Story time!
Many years ago when I lived in Nebraska, I was a front desk administrative assistant at Omaha Steaks in  working under one of the Simons. There was a vibrant older lady that came in to work and would speak to me every day. She wore the flashiest sweaters and outfits you have ever seen. Her hair consistently curled, smiling from ear to ear, and there was some form of sequins on her at all times. She would tell me stories about how she used to be a Showgirl in Las Vegas. I love a good story, so I would listen.
She would nudge me and say, "I think you'll be a Showgirl one day too."  I used to look down at my baggy khaki pants and polo shirt and think, "No F*cking Way, dude. I don't want to live in Las Vegas. There's nothing there for me."
Needless to say, whenever I heard the word 'Showgirls', I was like many of you, reminded of the cult classic…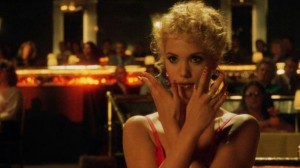 While I am not dancing in a show, looking in the mirror & seeing myself in this outfit and many others – is SURREAL.
We don't always know where our paths will lead us… It's what makes life an adventure. Never limit yourself.
I wish I had her email address. I do hope she's doing well.
Stay Inspired and Curious! Love, K-Y
My Adventures Working in Las Vegas Entertainment