NEVADA WOMEN'S FILM FESTIVAL 2018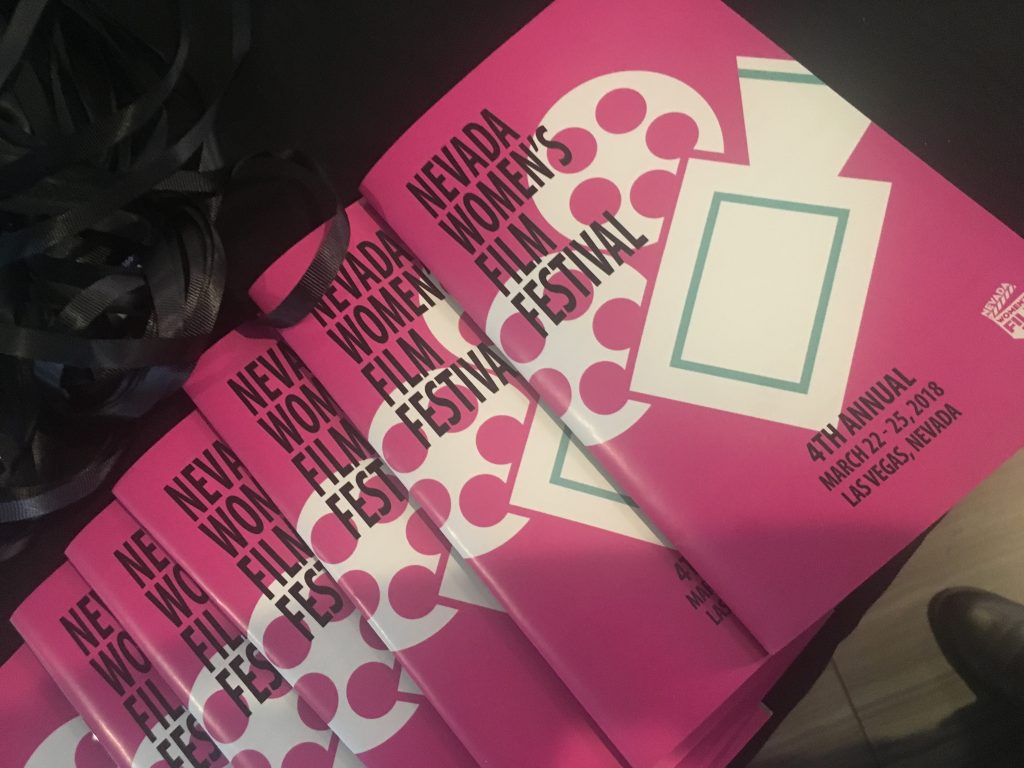 "Diversity is not one in the room. Diversity is not two in the room. Diversity is not three in the room. True diversity is half the room." – Ava DuVernay
I was chosen to interview a few people involved in the 4th Annual Nevada Women's Film Festival held at the Eclipse Theatre in Downtown Las Vegas. The Women's Film Festival exists to celebrate and support the fair representation of women in film. Most the films that come to mind when I think of a film, are starring a man and about a man. Women have often been the supporting characters who exist solely to interact with or about the man.
If a film can pass the Bechdel-Wallace Test, then that film is considered a work of fiction that has two women talking to one another about something other than a man. The Bechdel Test has inspired several other tests to promote women and diversity. Filmmaker Ava DuVernay has a similar namesake test that asks whether or not there are two named characters of color, that have dialogue with one another, are not romantically involved, and dialogue that isn't comforting or supporting a white character.
During the 2018 Academy Awards, there were only 6 women whom took home Oscars in comparison to the 33 male winners. That's one of the lowest records to date of the 90th annual show. There is progress however as women were the central characters in 4 of the Academy Award Nominees.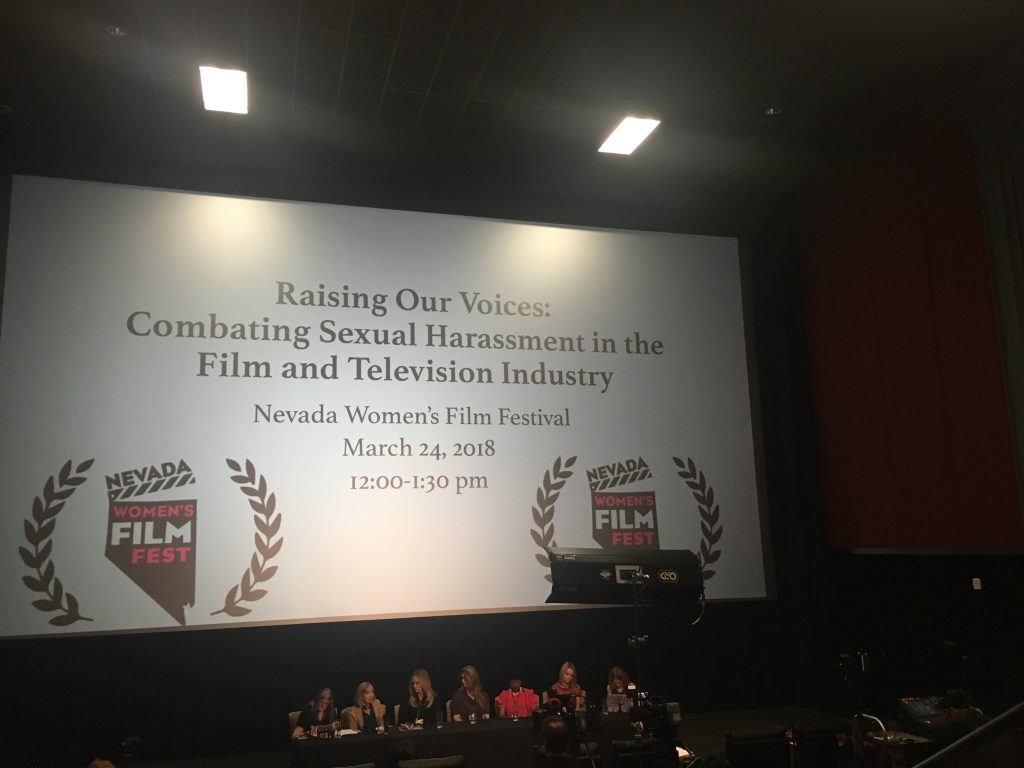 On Saturday of the Festival, there was a panel discussing the current topic of sexual harassment in the film/television industry. The 6 female panelists discussed their personal experiences with sexual harassment and how they are conquering their goals despite any challenges that they may face. Las Vegas especially is known for being a city that sells female sexuality in a way that is marketed to mostly men.
There's several double standards when it comes to exotic female performers versus exotic male performers in Las Vegas. Unlike most cities, Las Vegas advertisements predominantly feature the scantily clad. However, regardless of how one dresses or what their job may be, each and every person has their own agency of whether or not they want to do something. It all comes down to choice. An actress, actor, waitress, waiter, exotic dancer, and so on, has the right to decline sexual advances regardless of their costume/work attire, or role while on the job.
Women are speaking out, standing together, and sticking up for themselves like never before.
Change begins with awareness. It's going to take us all to come together to stick up for and beside one another.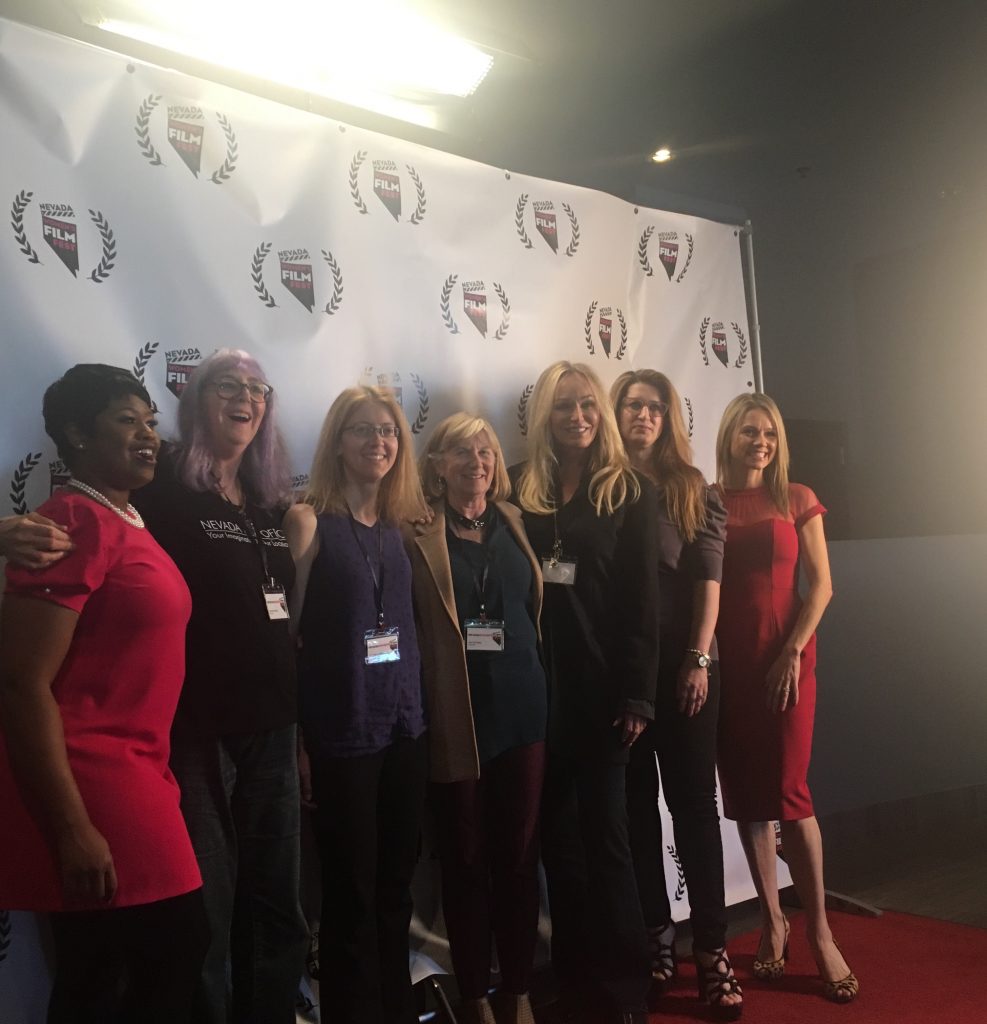 Link to NWFF:
http://www.nwffest.com
SOPHIA ROSE NIKOLOV (LAMB GIRL)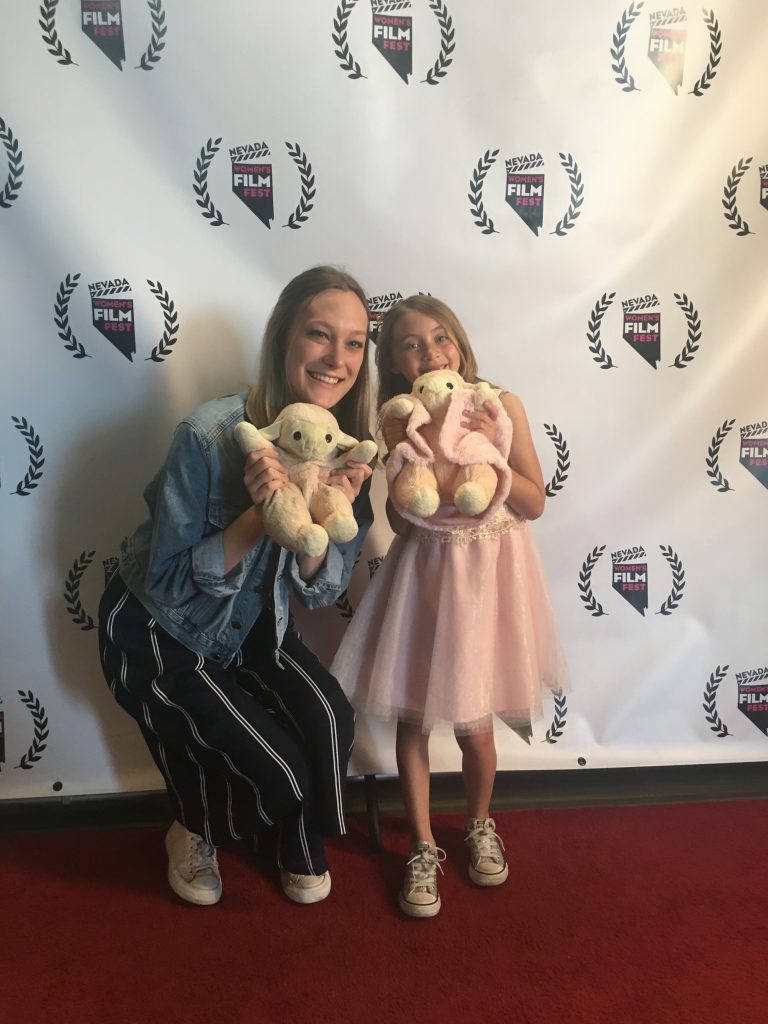 My first interview of the day was with the friendly and delightful Sophie, the actress whom played the young Emily in Amy Pellouchoud's short film. "Lamb Girl", while absent of audible dialogue captures the essence of what it means to lose a piece of your childhood. During a short Q & A in the theatre following the film, an audience member beat me the the punch and asked Sophie what her favorite scene to film was. Her response? "The Ice Cream!"
Seven-year-old Sophie has been acting for 2 years, stating that her first project was with Buzzfeed. "One was 4 kids drew pictures and the parents had to guess which one belonged to their kid," Sophie explained. Sophia would like to do more acting when she grows up but says that she would prefer to be on television because so far most of her work has been on the internet. Her reason for choosing television is simple: "More people will see me on television than on film."
Inspired by her favorite character which happens to be on a popular Disney Channel show, "Liv and Maddie", Sophie admires actress Dove Cameron. When asked if she had a stuffed toy at home that resembles the relationship that 'Emily' had with her lamb, Sophie says that she has a stuffed bear named "Teddy".
Q: What has it been like being part of the Women's Film Festival, Sophie?
Sophia Rose: VERY FUN!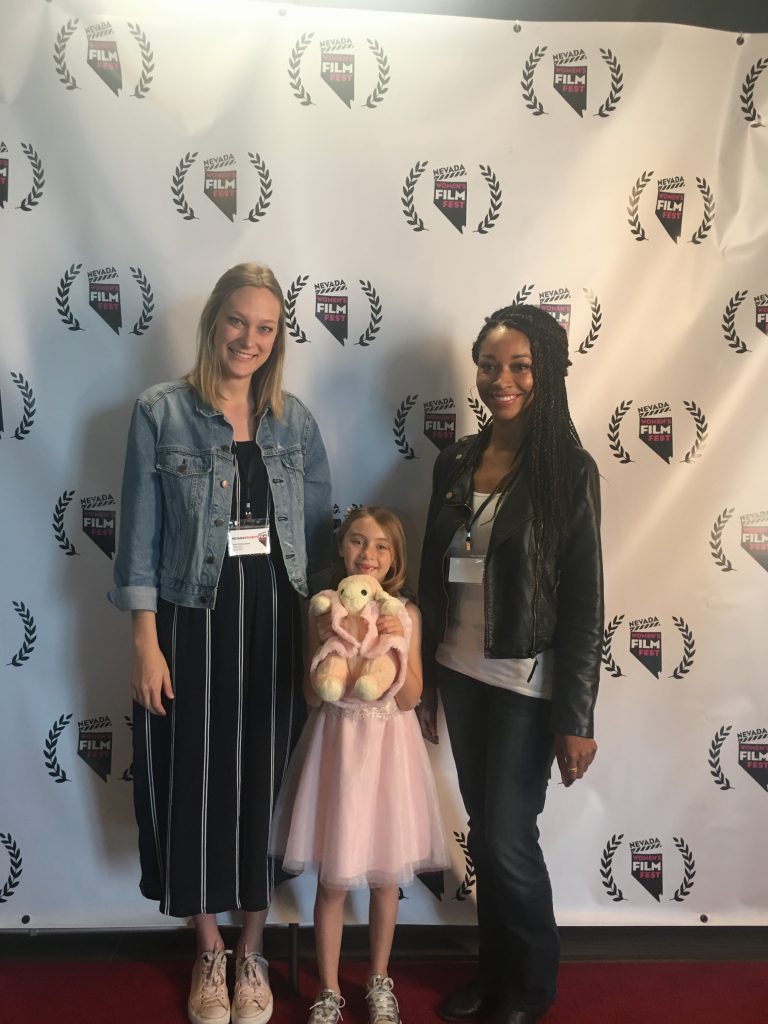 ALEXIS KRASILOVSKY (PANELIST)
After sitting in on the "Combating Sexual Harassment in the Film Industry" Panel, I caught up with Alexis Krasilovsky, whom was one of the 6 panelists for the noon discussion. Alexis teaches screenwriting, film production, media theory, and criticism. Along with her teaching resume, she has several years in the industry as a filmmaker, poet, published author, and head of Rafael Film, LLC.
Q: Are there any challenges that you face as a female filmmaker? How do you overcome those challenges?
Alexis Krasilovsky: I try not to focus on the still-dismal employment statistics for women working behind the camera, the lack of feminist reviewers, and the dearth financing available to female filmmakers. I try to remind myself that I have a unique voice, and that my experiences as a woman hold important insights for others, and that by living a somewhat simple life, I can manage to produce films that make up in their storytelling and connectivity to others what they may lack in glitz.
Q: What inspires you the most when making a film?
AK: Working trans-culturally and trans-conditionally. I made my last documentary feature, "Let Them Eat Cake" (2015), in twelve countries over six years. Listening to my co-producers from India and Guinea and taking their guidance to heart inspired me to make a film that could address the world hunger crisis and wage inequities on a global level.
Q: What was your favorite film project that you have worked on at this point in your career?
AK: I've spent three decades studying camerawomen around the world, starting with my first book, "Women Behind the Camera: Conversations about Camerawomen" (Praeger 1997) which focused on camerawomen in Hollywood, San Francisco, and New York, and a global feature documentary, "Women Behind the Camera (2007), which won four Best Documentary Feature and other awards. I loved working with women around the world to document the courageous and talented female pioneers behind the camera who have made a living at cinematography despite the odds. And I'm excited that Rachel Morrison's nomination for an Oscar in cinematography may be an indication of women gaining further recognition and inroads into a traditionally male field. The empowerment of these camerawomen inspires me to keep going.
Q: Any advice for other women in film that see your journey and are inspired by it?
AK: Be open to what life brings you. Shut out of Hollywood for the most part, I journeyed to Canada, Mexico, Bangladesh, Turkey, India, France, Poland, Spain, Japan, the UK, and other countries, enriching my life much further than if I had had enough local success to stay put in L.A.. In January I'll be giving a screenwriting workshop about global adaptations at the International Academy of Film and Media in Dhaka (based on my recently published book, "Great Adaptations: Screenwriting and Global Storytelling,") and will be meeting with the head of a production company that wants me to write a feature film for them. You never know what opportunities await you. Work hard in preparation for exciting possibilities, and recognize good fortune when it comes your way. It may not last forever.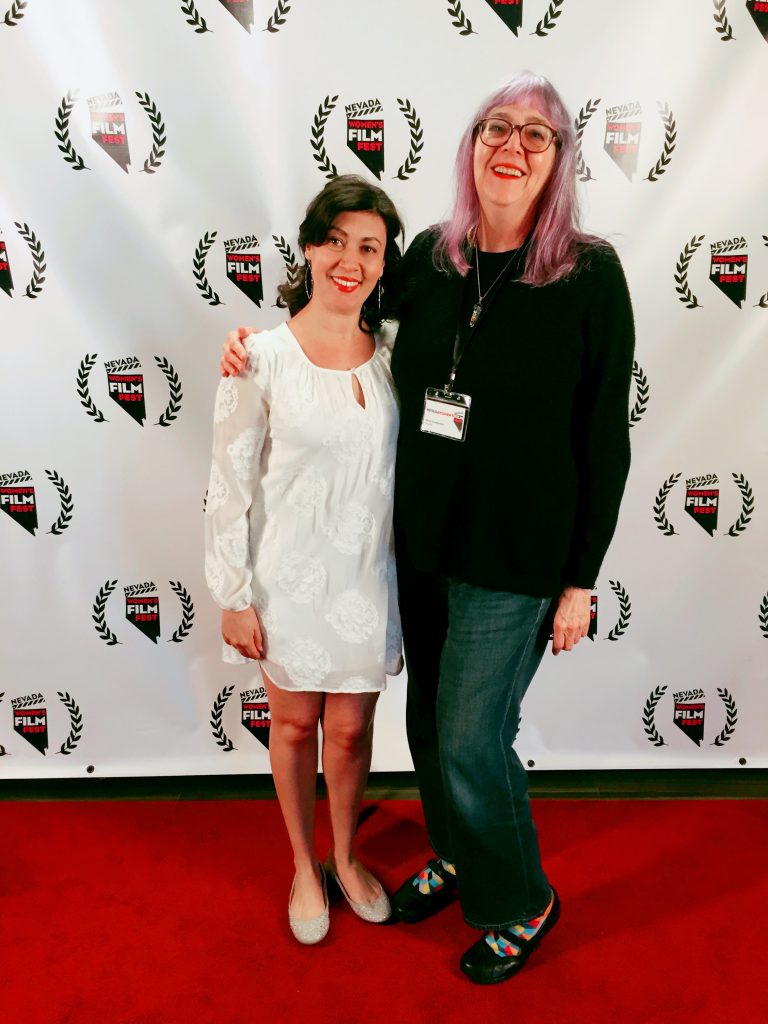 GILDA GRAHAM (NWFF EXECUTIVE COMMITTEE)
Q: How long have you been doing your role as producer of the women's festival?
GG: This is actually my first year that I've been honored to be part of the festival with these women and it's been an amazing experience.
Q: It appears that your passion is for screenwriting as that was your focus at California State. Do you have any current screenplays that you intend to add to an upcoming festival?
GG: Right now Im focusing on short films and writing them. I don't know if any surprises will happen this year for features. I'm always crossing my fingers. But right now I have a few short films in mind that I want to write and get done this year. Hopefully I'll send them out eventually. There's also short films submissions around the world that you can submit to.
Q: Would you let someone else do an adaptation of a work that you submitted?
GG: Of course. Art is art. Anything is possible. If I had the idea that everybody was always going to take, adapt, or fall in love with everything that I do, and keep it on my bookshelf because I'm afraid of it getting taken, then what's the point in living your life like that? That's also why they have copyrighting where you can go ahead and put in your script at the WGA (Writer's Guild America) and get a registration number so that people cannot take your stuff.
Q: You offer a lot of screenwriting services to other writers, which I think is really awesome. I imagine contributing to someone's craft has quite the impact. Has anyone that you mentored or critiqued impacted your life as well?
GG: Yes. So I have a very good friend whom came to me to get help for a novel as opposed to a screenplay. But as most novelists, they always want to turn it into a screenplay eventually. But characters are characters and three structures are three structures. He came to me as a student and ended up becoming a good friend. I fall in love with what other people create and cannot wait until they complete it. But sadly many people do not finish, as life gets in the way.
Q: How did you come about to work with and be mentored by Alexis Krasilovsky?
GG: Alexis is my former professor and now my mentor and was part of the panel. She does the same thing to me. She fell in love with something I wrote 8 years ago and for eight years she has been mentioning to me to finish it. I met Alexis while getting my degree at California State at Northridge. She was my professor there. Part of the program in the screenwriting course is to do internships. As much as I loved everything that she taught me in class, I was more intrigued by her being a producer of her own documentary material and I knew she had a film company. She hired me as an intern 8 years ago. It was an honor. That's how I got to know her and realize that she is going to be a mentor for me. She's the one that not only helped shape my screenwriting but helped me realize that I would be a good producer too. I became a producer because she inspired me to be one. She's quirky and amazing!
Q: And lastly, what's your personal goal with the Women's Film Festival? What would you like to see happen?
GG: That's a good question. Being my first year and having high expectations…. *Laughs* What I would really love is to inspire a lot of women and hear stories about women. That's the whole point of a women's film festival. Hearing stories about women, everybody is a different color, everybody is from a different place in the world. Sometimes I don't know what goes on in Ethiopia for instance and I'd like to because it's fascinating. You can always generalize but you never really KNOW because you're not there. Having festivals like this, you get that out there. And that's what I would love is to have more women AND men come, help each other out, create, and get to know each other. Even if someone was in New York and I'm in LA, we can get together and make something somehow.
CARRIE PRINCE & ALLISON RAE (KINESTHESIA)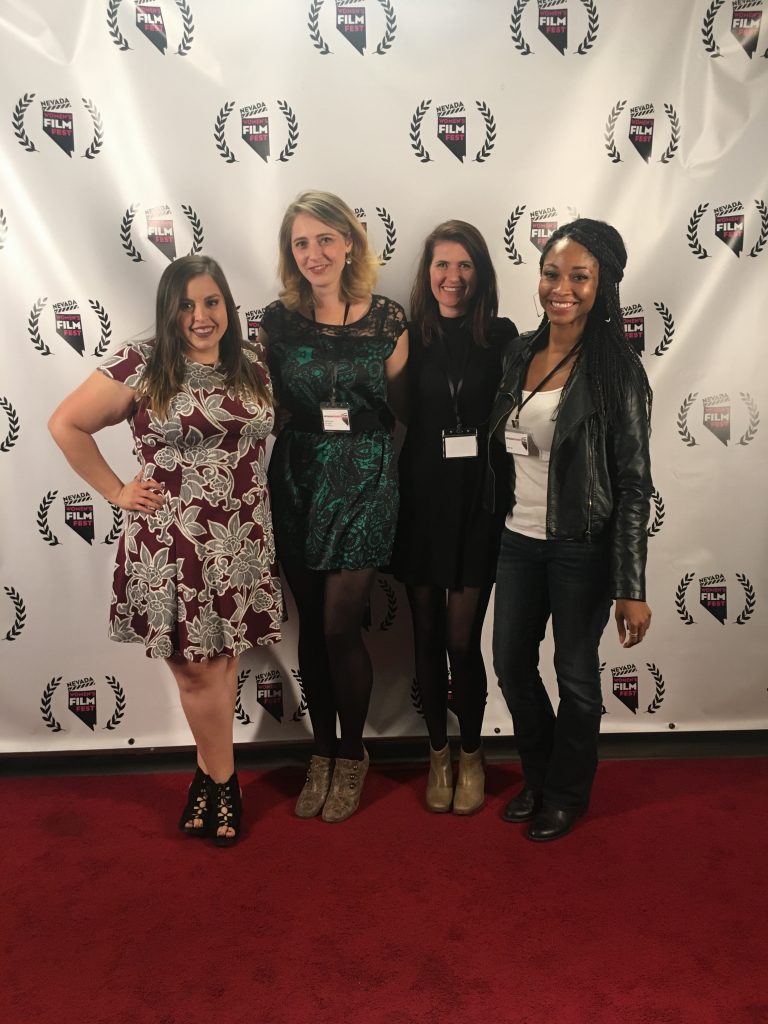 Q: Have you worked on any projects in Las Vegas? What were those?
Carrie (Director): A couple of years ago, I was fortunate enough to work on the newest Bourne movie, "Jason Bourne". I got to stay here for a few months and we worked on the portion of that film that was in Las Vegas. It was really fun. I was here from November to March.
Q: When directing Kinesthesia, what was your goal in terms of visualization?
Allision Rae (Cinematography): Carrie and I talked a lot about how we were playing with memory. So there was a lot of leeway we had to make really beautiful visuals because memory is not clear. And some of the most beautiful images you see are those fuzzy warm toned images that aren't super clear to the eye but they have this feeling. So we knew we could play a lot with that romantic style of filming and we did.
Q: Are there any challenges that you face as as female director? How do you overcome those challenges?
Carrie: On this particular project I did not feel that being a female filmmaker was an issue because the people I was working with were already supportive and friends. So those issues on this project because it was smaller and we were a very tight knit group, I wouldn't say that was a factor. Outside of that, I think at a certain level you do hit that threshold where it starts to become a bigger issue. So I'll look forward to those challenges when I hit them.
Q: Any advice for other women in film that see your journey and are inspired by it?
Carrie: Yes. I think DO THE THING. Lots of women over-worry and they think that they are not good enough and they don't know if they are allowed or have permission to do things. I think one thing that differentiates us in some of those ways is we feel like we have to wait until we're ready to do it. The better thing to do it to do it, fail a little bit, and learn a little bit, then do another thing, and another thing, and build your empire of people that along with you for that journey of learning and making better stuff. A lot of us are perfectionists and want to do it right the first time, which is impossible. Do it soon too. Don't wait. Just do it.
KRIS MAYESHIRO (TAKEDOWN)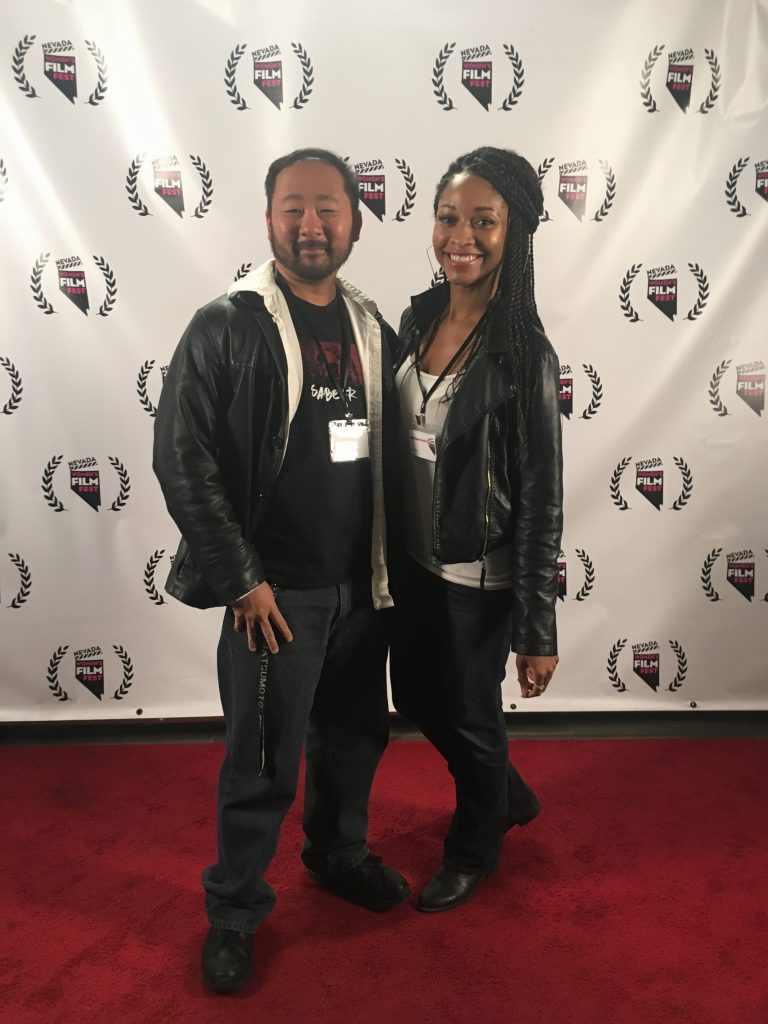 Q: Compared to other projects that you worked on, how was directing this project different? What if anything stood out?
Kris: First off, it was my first film as a director. That in itself was a challenge. Pre-production, trying to get everything organized, and not knowing the scope of… You really don't know what you don't know until you get there. A lot of my challenges was trying to figure out those things that a first time filmmaker has to figure out. Figuring out locations was a bit of an issue. We actually had to re-write the story a few times in order to accommodate the locations we had available. At the end of the day, they were all minor challenges. I took on a lot myself with this action movie. I also did the fight choreography. I wish I hadn't. *Laughs* But it ended up working out, so I can't really complain. We took it to 'Action On Film Fest' and we got a bunch of nominations for fight choreography and action sequences.
Q: What are some challenges that you foresee as a director in Las Vegas?
Kris: A lot of the challenges are around resources. The resources and infrastructure aren't there like you would find in places like L.A.. Or even those I would have access to in Hawaii where I grew up. There were a lot more resources that I readily available to me that I don't necessary have here. But I think it's just a matter of time. The other challenges with shooting action here is that you never want to shoot an action scene in the summer here which we seem to do every time. *laughs* Sean's (Jackson) film "Bubblegum" we shot on a runway when it was 110 out and 130 degrees on the runway. There are a lot more resources in Vegas than people realize though.
Q: You did a lot of work with filmmaker Sean Jackson here in Las Vegas. Do you plan to work together more in the future on other projects?
Kris: Sean wrote the screenplay for "Takedown". Sean and I are family. He's like a brother to me. I've known him for so long at this point. When we're not working together, we're doing something else. Another person in our group, Alberto Triana is gearing up for his first feature film. My film wouldn't have happened without Alberto. Whenever one of us has a project, it's all hands on deck.
Q: Do you have any thoughts on women representation in film and whether or not you see that changing?
Kris: With anything in representation and diversity, they become trends. With the success of "Wonder Woman" last year was really good for female leads, especially in action films. I get goosebumps watching it. It's unfortunate that having an Academy Award winning director Patty Jenkins is considered a risk in Hollywood. It's not something I understand. Obviously this 'risk' worked out for her because it's probably one of the best films that DC Entertainment put out in a while. I think it's going to get better. But there are two things that need to happen- good leads with good skill, and a filmmaker with the skills of Patty Jenkins. If they are quality storytellers doing these films, it's going to get better.
Q: Any advice for someone starting out as a director?
Kris: I started doing this because I'm an actor. More specifically, I'm an actor that no one wants. That's really what it comes down to. I wanted to tell a story and I came to the realization that no one is going to care about your story unless you care about it. Unless you take the time to actually not only say that you care about it, but show that you care about it. Start writing those scripts. Start directing those films. Start producing those films. Just go out and do it. You're going to make a lot of mistakes. There's a great saying from martial arts, "Cry in the dojo, laugh on the battlefield." iPhone 7 and up do 4K video. You have the resources. There's no excuse for not knowing what to do. Everyone has a phone now that you can use to shoot a film. If you're going to do it, go out and do it. And even though you can do it alone, film is a collaborative art. Find your people. And if you can't find them, keep telling your stories and people will find YOU.
A special thank you to everyone that I spoke with during this festival. It was an honor. Your stories inspire me; those that you create and the ones that you live!
~Khalilah