ALL WE NEED IS LOVE
Written By Khalilah Yasmin
On 12-12-12, I celebrated my birthday in Los Angeles and was pleased to help volunteer at the NoH8 Campaign 4 Year Anniversary Party at Avalon in Hollywood.  NoH8 Campaign began as a photographic silent protest by celebrity photographer Adam Bouska and his partner Jeff Parshley to spread the message of LOVE and equality.
I met some amazing new friends and was introduced to some incredible people. One of the events from that day that stands out to me took place when myself and some other volunteers were adorning Avalon with NoH8 balloons and all of a sudden I heard something supreme.  It was one of those moments when you're laughing and busy tuned out of the world…and THEN, a voice so full of passion, sincerity, and pain wakes your SOUL all the way up and forces you at attention. It was Jamar Rogers doing the soundcheck for the evening's event. The song was called "High" and is available on iTunes. Love is his message as well. Google his story to be moved further.
My mission in celebrating this triple digit birthday was to celebrate my favorite theme in life; LOVE. The Universe was clearly listening and lead me towards another event that took place in Los Angeles 3 days later called 'The Love Mob'. 300+ of us met up at the Hollywood and Highland center and sang along while holding one another to The Beatles classic tune 'All we need is LOVE'. The Love Mob is a movement of Love organized by Preston Smiles in hopes that others will recognize what the world needs most of all. There is another Love Mob LA scheduled for February 2013.  I for one, CANNOT WAIT!
"We are about organized ACTS of LOVE~ modern day Robin Hoods who DON'T steal from the rich but rather include everyone as we return to our true nature~LOVE" – The Love Mob
I am happy to live to see another year definitely. Yet I am exceptionally honored to have participated in two monumental events that celebrate the existence of the most powerful force on this planet; LOVE.
Today ESPECIALLY it is vital to take the time to make a difference in someone's life, simply by loving them.
I challenge anyone that is reading this to realize that there's something going on inside of everyone. If you have the balls to use to word 'LOVE'… Show up and PROVE IT.
Free Hug anyone?
Love, Khalilah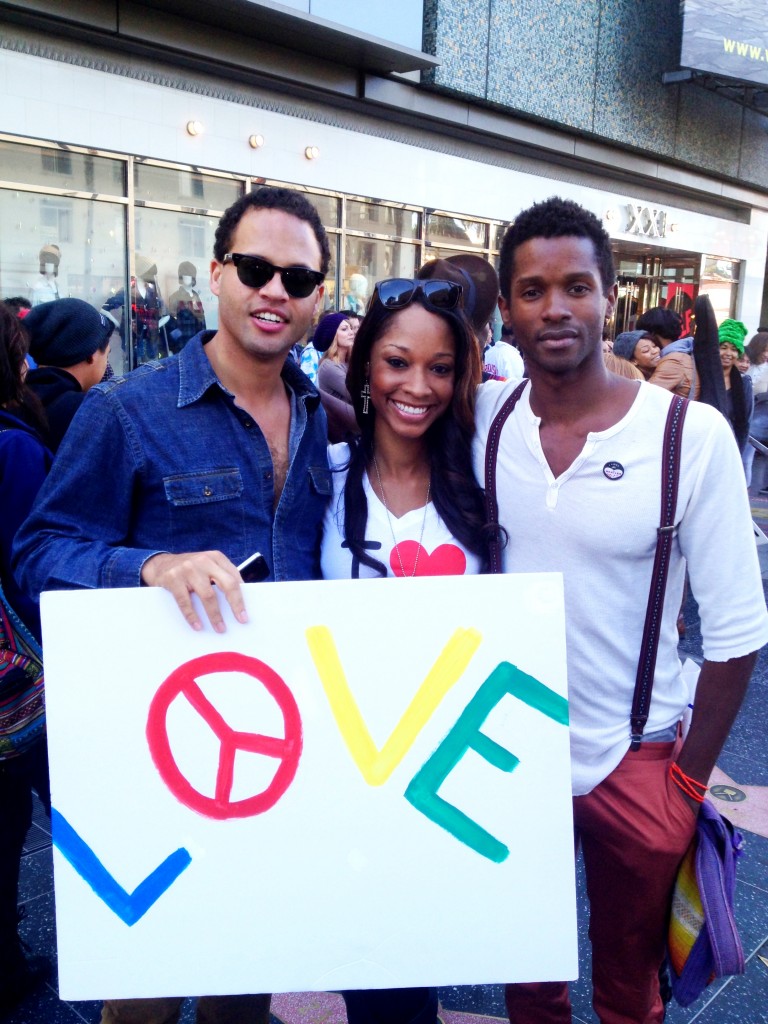 References:
https://www.facebook.com/TheLoveMob 
http://jamarrogers.com
https://twitter.com/JSquidward
"When two or more are gathered in the name of love….MIRACLES HAPPEN!"- Judah Isvaran
Share Love. Spread Love. BE LOVE.