MY HAIR JOURNEY & RETURN TO NATURAL – As told by Khalilah Yasmin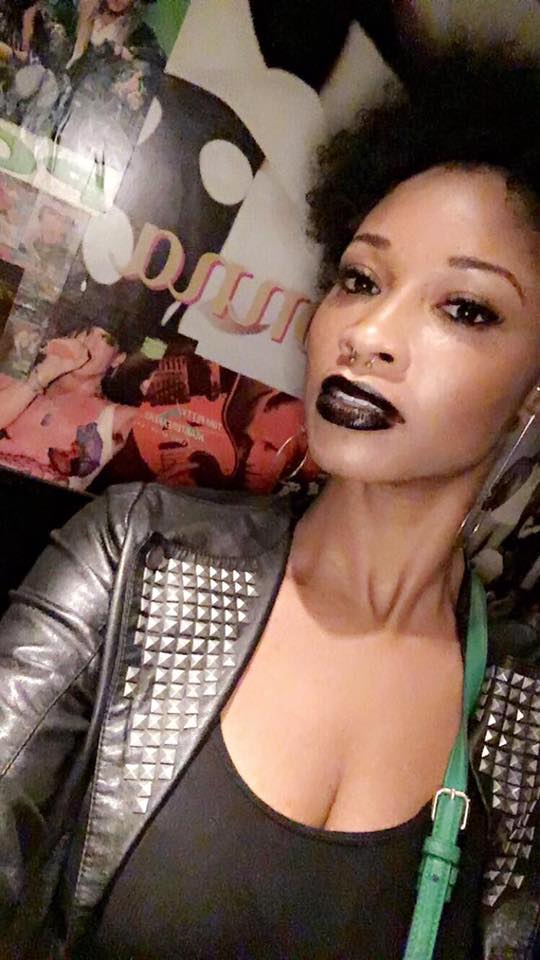 'They' taught us to hate us the way that God made us and I'm sick of it.
I am writing this to EDUCATE those that don't understand and to ENCOURAGE those on a similar path.
I am a Black American Woman. The first thing people see when they look at me is not my nationality of being American. The first thing people see is that I am BLACK. My natural hair texture reflects my heritage. And no matter what I do to my hair, it will always grow out of my scalp the way that it was born.
Eurocentric standards of beauty have been pushed onto women of African heritage for many years resulting women of color to go through certain procedures and changes to be accepted in society. Some of those changes include but are not limited to, hiding our hair with scarfs, using a chemical relaxer to straighten the hair while it literally BURNS the skin that it is attached to, hot combs, and other devices.
Black women's hair is not wrong, it is not bad hair, or unprofessional hair just because it doesn't lie down the same way as those with TYPE 1 hair.
For reference, here is a chart of basic hair textures: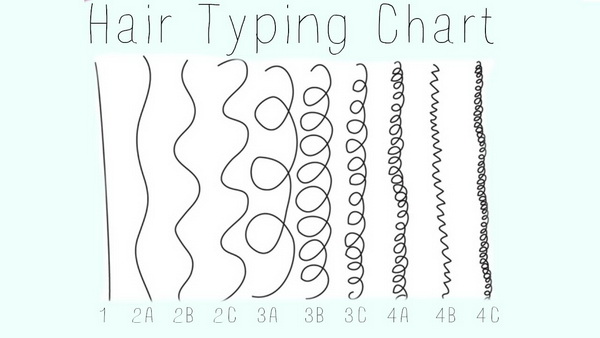 Due to the texture of BLACK hair, we have to do different hairstyles and switch it up. Too much heat will cause breakage. Black hair is not naturally oily so we have to add moisture to our hair to keep it from snapping & breaking off. Too much tension of any kind can potentially damage the hair as well depending on your texture. And once the hair is damaged at the root, it's hard to grow back.
BIRTH: NATURAL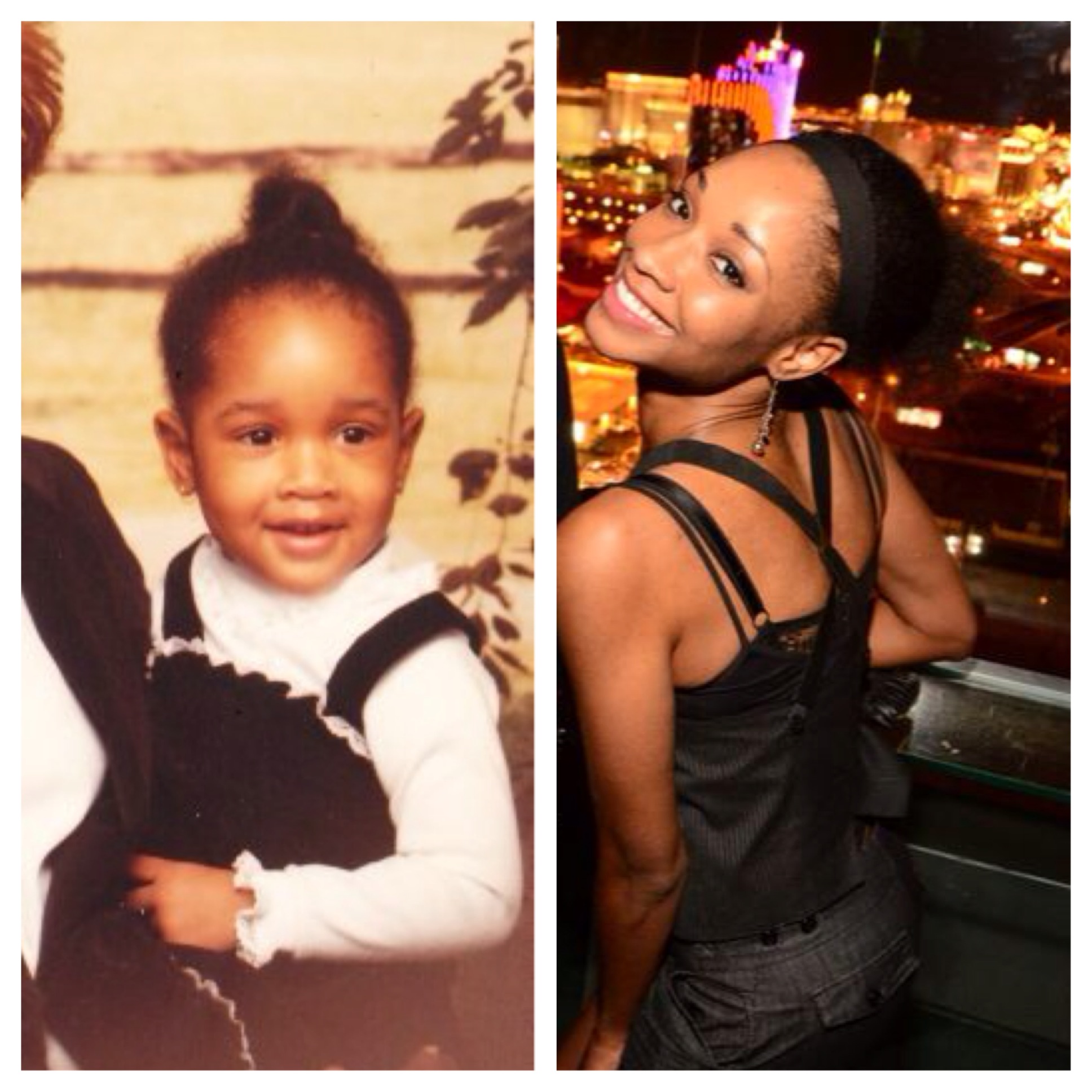 My natural hair texture is between a 4A and 4B Kinky/Coily.
See photo: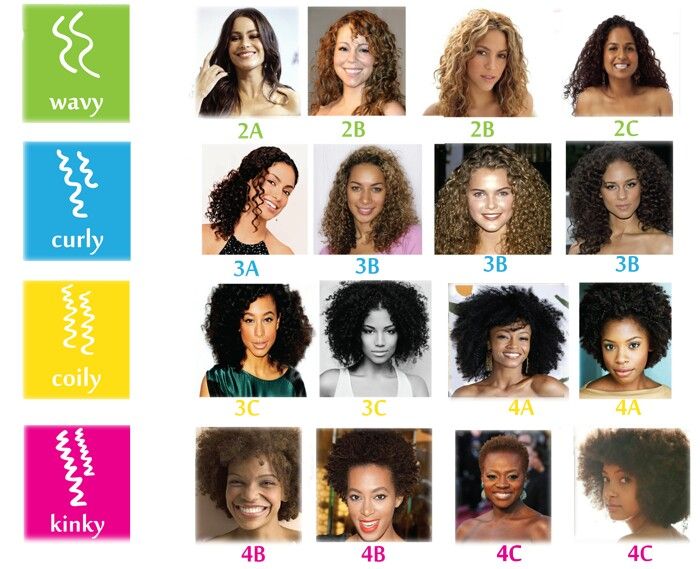 As a little girl, it was common practice for my mother to straighten my hair using a hot-comb that was placed on the stove and heated then to style my hair. The comb was necessary because in order to fully straighten hair that does not grow straight, it must be straightened all the way down to the root.
I was around 12 years old when my mother put a chemical relaxer on my hair to straighten it.
I got 'sensitive skin' chemical relaxers on all of my hair from age 12 until about age 27. At age 28,  I began just getting the edges of my hair relaxed so that it would blend in with the weave that was sewn atop of my braided hair.
Meanwhile, I was losing hair on the sides that were being chemically straightened.
See Image below: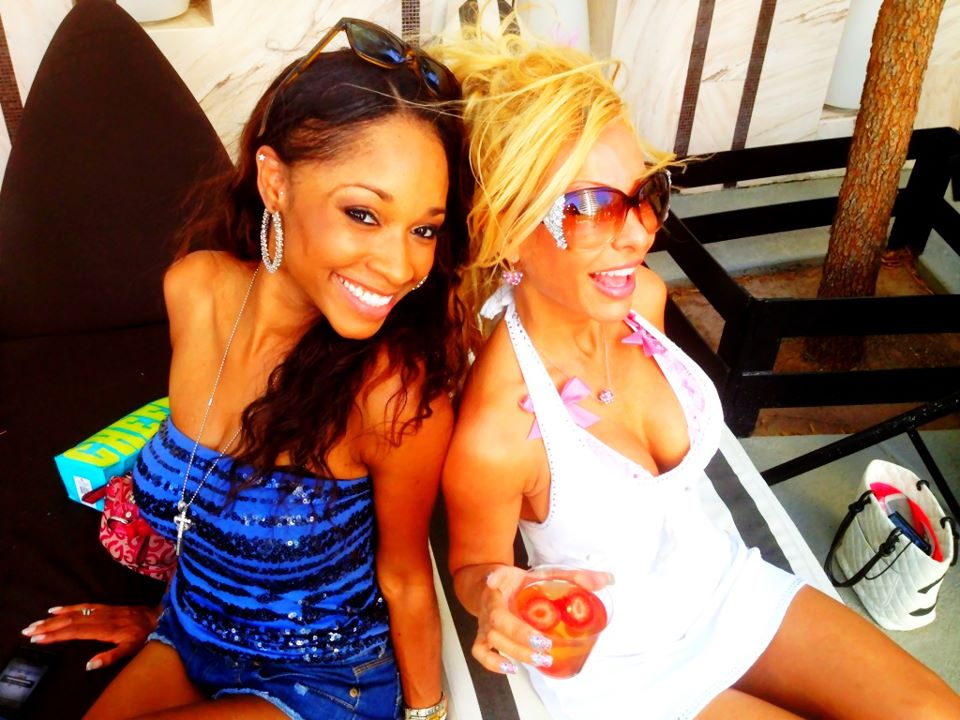 Despite the balding, I was so brainwashed that my hair had to be straight, that I fought through the burning procedure every 6 weeks as new hair grew in. I told myself that I had to continue to do this to my hair because of the line of work I am in, ENTERTAINMENT. When people are choosing you based on what you look like and that's how you're making a living and keeping a roof over your head, you fall in line to meet those 'Eurocentric Standards of Beauty' I mentioned earlier.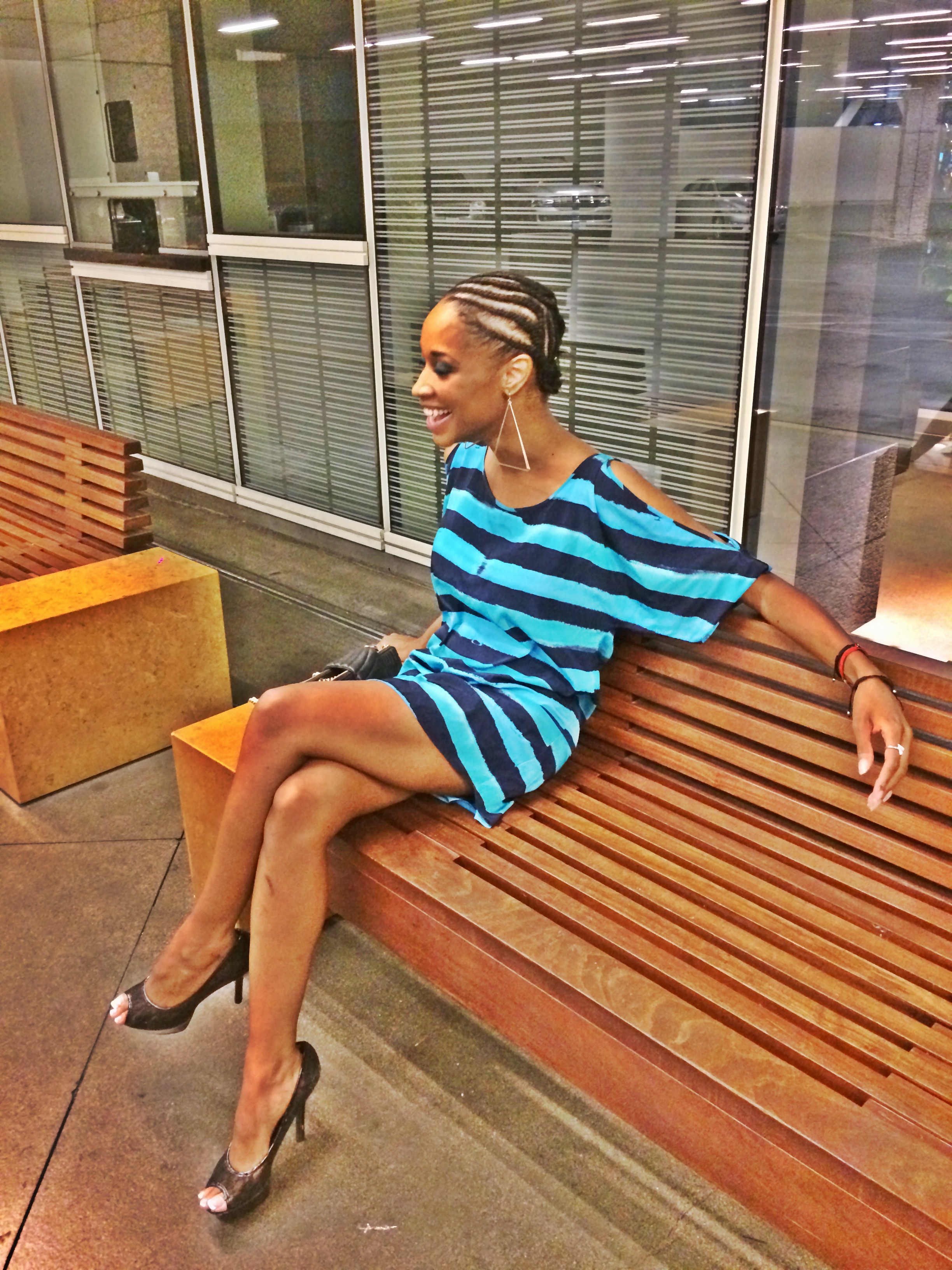 Then after observing a stranger with healthy natural hair, my life was changed. I met my current beautician who convinced me that if I didn't stop getting chemical relaxers that I wouldn't have any hair left to put a weave on top of. She refused to put a relaxer on my hair and I am grateful for her. Thank you, Miss Connie! TOTALLY MADE OVER HAIR STYLING STUDIO
She turned my weaves into custom made wigs so that I could transition from wearing my long wigs for work or for fun, and take care of my natural hair at the same time.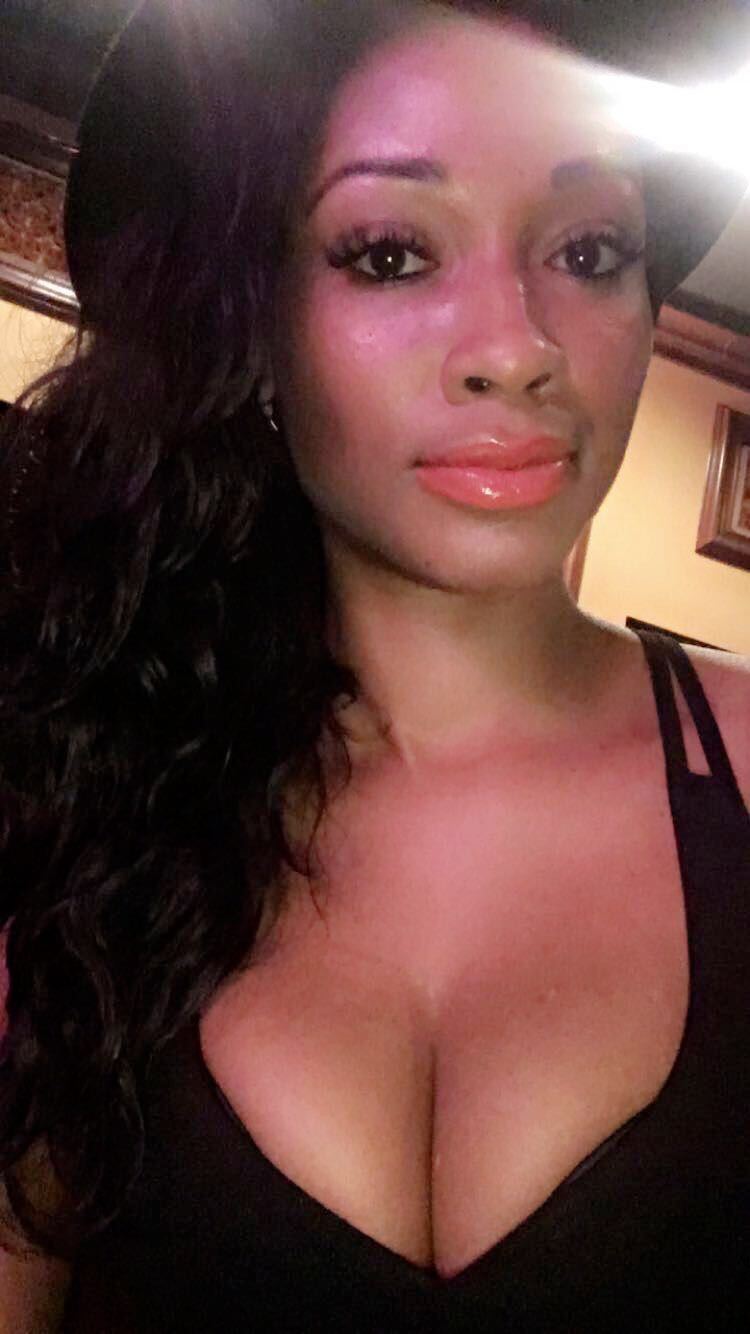 There's nothing wrong with wearing wigs, weaves, or even getting a relaxer if that's what works for you. But for me…not wearing my own hair the way it grows was teaching my hair that I didn't want it….
When I am in public and look around at Black women, it's rare to see them wearing their own hair. If for style, fashion and personal choice, fine. I get it. But if it is to be accepted because you don't feel good enough, it's wrong. You are good enough! It breaks my heart that Black women have been taught to adhere to these standards.
Even though I occasionally receive a lot of praise, I'm still often met with criticism when I choose to wear my natural hair. No one criticizes those with straight hair the way that they give it to Black women for wearing our hair natural. It's frustrating. But a movie with a predominantly caucasian cast is just a movie. A movie with a predominantly black cast is now a Black movie. Do you see? We grow up being told that White Standards is the Standard when HUMAN should be.
A black male colleague and I got into an argument about my hair because he wanted me to look like I did when we met. He wanted me to have long hair every single time he saw me even if wearing a wig every day means that it is pulling at my hair and pulling it out. I explained that outside of work, I needed to keep the strain to a minimum for health reasons.
We cannot always rise to meet other's expectations of who they want us to be and what they expect us to look like.
Am I less of a human being, less of a friend, less worthy of love, and opportunity… because my hair grows towards the sky instead of towards the ground? NO.
And neither are you.
Whether you are TYPE 1 or TYPE 4 hair…. You are beautiful the way God made you. Do what works for you. And if that means embracing your nature or adding some extras, YOU DO YOU.
As for me, I occasionally wear a wig over my hair for work when requested and am still figuring out which products work best for maintaining the health of my hair. I've been loving Cantu products such as the Coconut Curling Cream and Coil Detangling Spray. And also the Shea Moisture. As I mentioned before, I have between a 4A and 4B hair, so after a wash and deep conditioning with Shea Moisture Masque, I apply the Cantu Coil Calm and it makes my hair healthy, smooth and curly.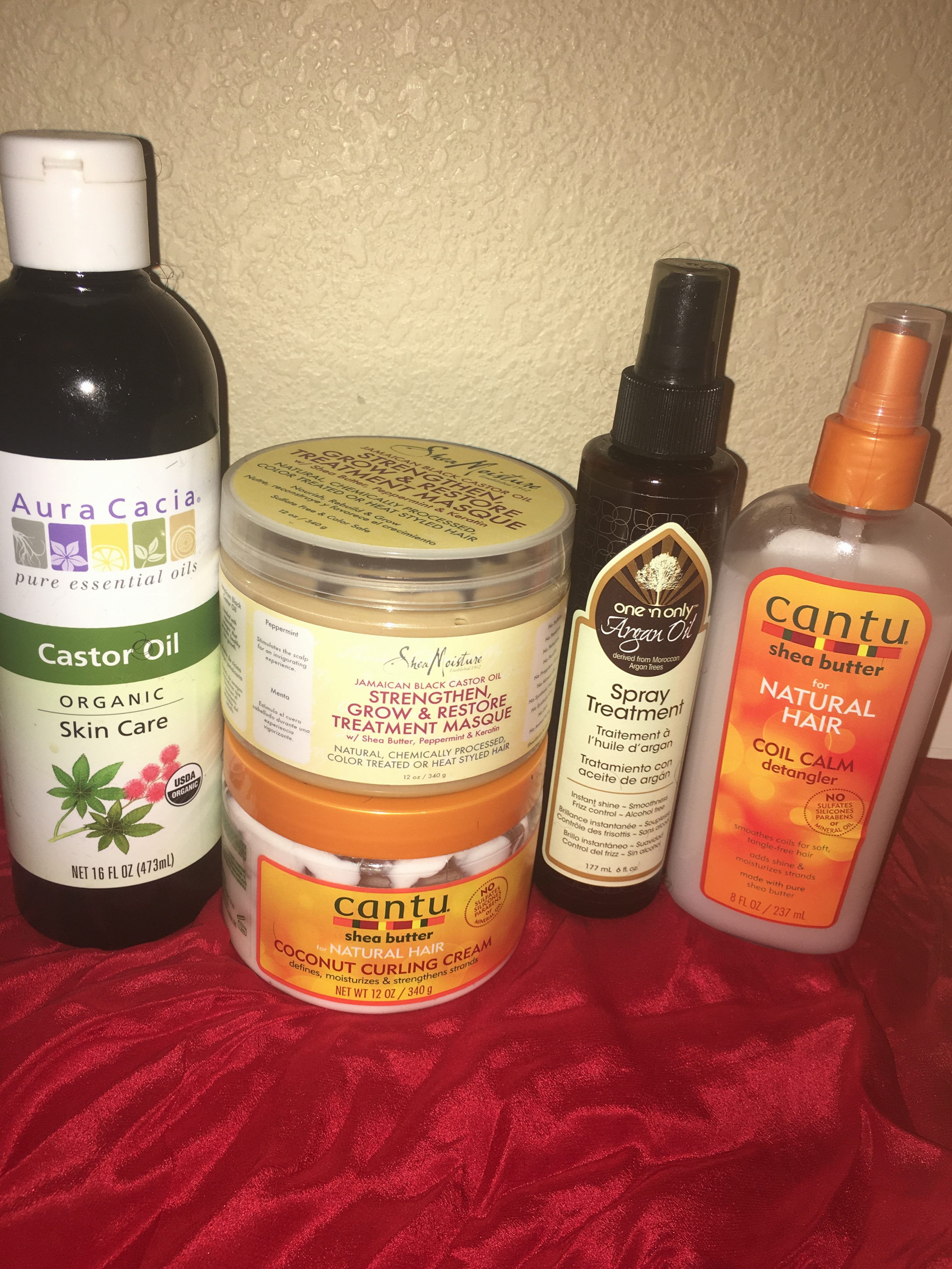 Q & A:
Q: "OMG, what are you doing with your hair?"
A: "I'm wearing it the way that it grows out of my scalp so that I can continue to have some."
Q: "Do you ever like straighten it?"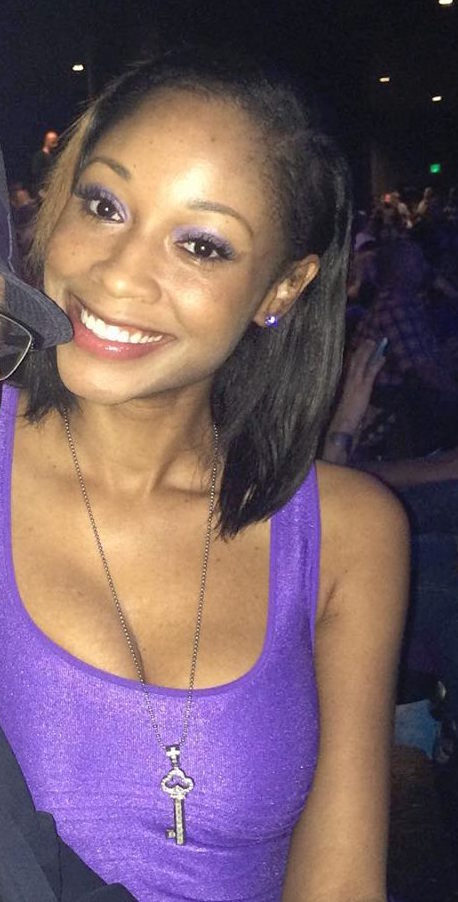 A: "Yes, but not often and only by my experienced beautician. I trust her not to do any damage. My texture is meant to be this way."
Q: "It's so fluffy and different. Can I touch it?"
A: "No. Do you like being pet like an animal at the zoo?"
Q: "OMG. I didn't recognize you without the wig. You look so different."
A: "Do you look at my face or my hair?"
Q: "Can't you just add extensions to make it longer when you want?"
A: "Yes I could, but unless the extensions match my hair texture exactly, it won't look right without altering my own hair in some way… that won't last long anyway. Such as a painful chemical relaxer or getting it professionally hot comb pressed. The moment water or sweat hits my hair, the style is done."
When it comes to hair, Nature and Nurture work together.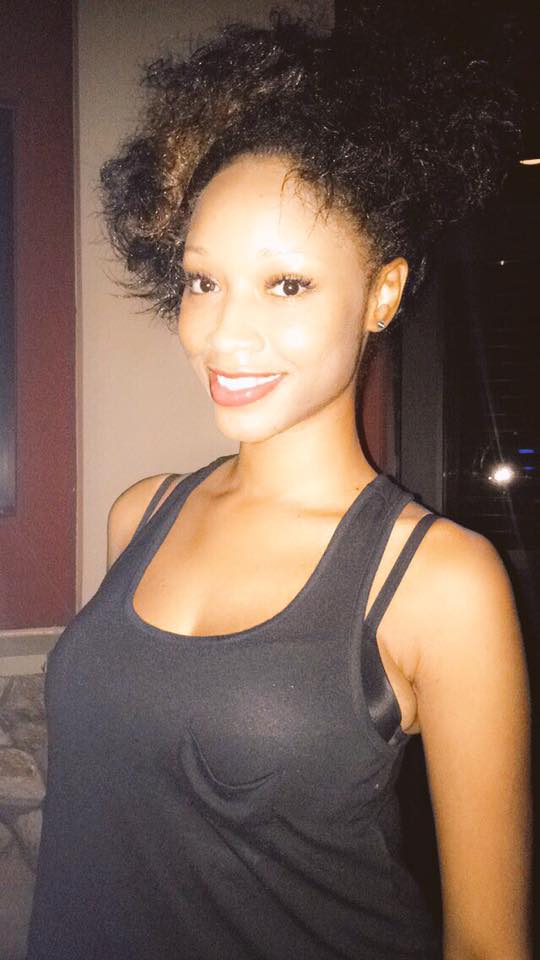 Excerpt from article encouraging young black girls: BAROQUE INSPIRED NATURAL HAIR
"We feel that it is so important for kids of color to be able to see positive images that look like them in the media," Kahran told My Modern Met. "Unfortunately the lack of diversity often plays into the stereotypes that they are not 'good enough' and often forces kids to have low self-esteem."
"We hope that viewers will see the beauty and versatility of afro hair and we hope that girls around the world will be inspired to love their unique differences and beauty within."
If you have a Black friend… please stop telling them that their version of natural is odd… abnormal, or EDGY.
THIS IS HOW MY HAIR GROWS OUT OF MY SCALP.
Let's celebrate our differences instead of ostracizing those that don't look like you.
TAKE CARE OF YOUR BODY. IT'S THE ONLY PLACE YOU HAVE TO LIVE.
Be blessed.
With intense love, Khalilah
"I got, I got, I got, I got
Loyalty, got royalty inside my DNA."